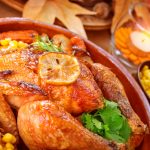 As the leaves change colors and the crisp autumn air settles in, there's no need to pack away the grill just yet. Fall is the perfect time to embrace outdoor cooking and infuse your dishes with the rich flavors of the season. In this blog, we'll explore some of the best fall grilling recipes that will elevate your autumn gatherings and warm your soul.
Maple Glazed Pork Chops:
Kick off the fall grilling season with a delectable dish that combines the sweetness of maple with the savory goodness of pork. Marinate thick-cut pork chops in a mixture of maple syrup, Dijon mustard, and a dash of soy sauce. Grill them to perfection, allowing the maple glaze to caramelize and create a mouthwatering crust. The result is a succulent and flavorful pork chop that captures the essence of fall on your plate.
Grilled Butternut Squash Skewers:
Celebrate the bounty of autumn vegetables with grilled butternut squash skewers. Toss cubed butternut squash with olive oil, garlic, and a sprinkle of fall spices like cinnamon and nutmeg. Thread the seasoned squash onto skewers and grill until they are tender with a hint of smokiness. These skewers make for a delightful side dish or a vegetarian-friendly main course that highlights the natural sweetness of the butternut squash.
Smoked Applewood Turkey Breast:
Give the traditional Thanksgiving turkey a smoky twist by grilling a turkey breast over applewood chips. Brine the turkey breast beforehand to ensure juiciness, and then smoke it on the grill to infuse that unmistakable autumn aroma. The result is a tender and flavorful turkey that pairs wonderfully with classic fall sides like cranberry sauce and sweet potato casserole.
Harvest Grilled Salad:
Upgrade your salad game by taking it to the grill. Gather an assortment of fall vegetables such as Brussels sprouts, beets, and acorn squash. Toss them in olive oil, balsamic vinegar, and a pinch of thyme before grilling to perfection. The charred edges add depth of flavor, and when combined with fresh greens and a tangy vinaigrette, create a harvest grilled salad that is as visually appealing as it is delicious.
Cider-Brined Grilled Chicken Thighs:
Infuse your chicken with the essence of autumn by brining it in a mixture of apple cider, brown sugar, and a medley of fall spices. Grill the chicken thighs until they are golden brown and juicy, creating a perfect balance of sweet and savory flavors. This recipe not only adds a touch of fall to your table but also ensures a succulent and flavorful chicken that will have your guests coming back for seconds.
Pumpkin Spice Grilled Dessert:
Who says the grill is only for savory dishes? Indulge your sweet tooth with a unique grilled dessert that embodies the spirit of fall. Slice fresh pumpkin into rounds, brush with melted butter, and sprinkle with a mixture of sugar and pumpkin spice. Grill the pumpkin slices until they are caramelized and tender. Serve with a scoop of vanilla ice cream for a simple yet decadent autumn treat.
Summary:
As the temperatures drop and the days grow shorter, don't let the fall season limit your culinary adventures. Embrace the flavors of autumn by firing up the grill and experimenting with these delicious fall grilling recipes. From savory maple-glazed pork chops to sweet and smoky pumpkin spice desserts, these dishes will not only warm your taste buds but also create lasting memories around the grill with family and friends. So, grab your apron, gather your loved ones, and savor the season with these exceptional fall grilling creations.
Need a Grocery Store in Alexandria, IN?
Horner's Midtown Market has been providing our community with all of its grocery needs since 2018. You can find all of your pantry's needs here, whether you are looking for produce, deli meats and cheeses, grab-and-go meals, or something new entirely. Our meat department is the best in the area, and our rounds, chucks, and beef are all freshly ground every day. Stop by our store today! Contact us today to talk to any of our staff members if you're looking for something in particular. We would be more than happy to assist you!